Image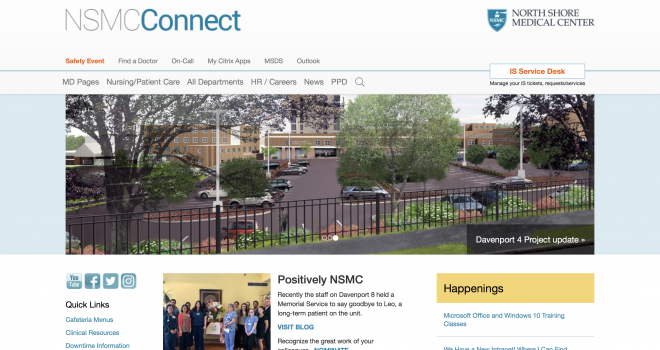 ERIS Research Computing Core
The updated and enhanced NSMC Connect is the internal website that serves NSMC physicians and employees.
In addition to a fresh look and modern design, the new, easy-to-navigate site features an abundance of useful tools and information for NSMC/NSPG employees, from the latest NSMC/NSPG news to quick links to the IS Service Desk or tomorrow's lunch menu. There also is a new and comprehensive department directory that connects you to dedicated department pages that each provide need-to-know details about resources and services. 
In June 2019, the NSMCConnect.partners.org website was launched. The new NSMC Connect is a lively, continually updated hub of information for the medical center community.
Project Highlights
ERIS Web Developer Josh, Project Manager Alissa, worked closely with the NSMC Marketing/Communication Teams to understand the scope and requirements of the website design from both a business and technical standpoint. Jean, the Senior Manager of Digital Marketing for NSMC describes the experience:
"NSMC recently completed an Intranet web site project with the help of ERIS. The ERIS team we worked with, Alissa and Josh, were instrumental in helping us complete the project successfully. Alissa's project management skills helped us seamlessly integrate our team with theirs, and kept the project on track all the way through to completion. Josh's Wordpress experience and expertise were invaluable, he had creative and practical solutions for every technical hurdle we faced. They were a pleasure to work with and I wouldn't hesitate recommending working with them again on any future web projects. They are a highly skilled and competent team."
"The NSMC intranet project was a great collaboration among Developers, Designers and Managers at NSMC and our Research Computing Core team", says Alissa, Project Manager of RCC.  "Jean, Senior Manager of Digital Marketing, reached out to us last year with her vision and she, along with their Developer, Eric, and Graphic Designer, Steve, kept this project running smoothly, on time and on budget.  Our weekly meetings were highly productive and everyone participated and kept their tasks on track, to ensure continued momentum of the website build.  We are pleased that we were able to deliver a cohesive product with high visibility, so seamlessly, remaining on budget and delivering within the requested timeline".
About the Research Computing Core
Our team of developers and software engineers can assist with web development, focusing on using PHP, Java, and modern web technologies like Drupal and WordPress. The Research Core team provides consulting, design and technology services to researchers and their project teams at competitive hourly rates. The Core collaborates with users on finding efficient solutions using technology for the unique needs of research environments. Contact rcc@partners.org for a free consultation.